Summary
211 certificate orders were received during the first 4 weeks live
Births were the most frequent certificate completed and sent by the registrars team during that time period (43), with marriage certificates coming a close second (41)
4 out of 5 certificates were sent via post to their recipients
Hounslow's Challenge
Boasting a population of 288,200 residents, the west London borough's local authority tirelessly handle requests from bulky waste collection to pest control every day. Among the services they provide, their local registration team, led by their Superintendent Registrar Julie Gillies, help thousands of residents navigate important life events every year. This includes having the 15th highest number of birth registrations for a London borough with 3,718 (2020) and having conducted over 600 marriages in 2019.
In late 2020, the Hounslow team set out to introduce a new diary system for managing the appointments and ceremony bookings they received, and looked to create channel shift benefits from the switch to online bookings.
With that said, the partnership with Stopford for a new diary management system also offered the opportunity to transition their existing copy certificate management process across to Stopford's solution. This would replace their internally created forms and admin system, bringing certificate management from order to dispatch under one roof.
Implementation
Prior to development, the Stopford team worked with the Hounslow registration team to configure the standardised Copy Certificates online flow to their specific requirements.
This included customising text like Hounslow's specific order guidance and adding new questions during the order process, e.g. 'Is the person applying for the birth certificate adopted?'.
Upon the upgrade to the test environment, training was conducted to assist the team in setting up the Copy Certificates module for success. This included adding certificate types for purchase (full certificates, short certificates) and establishing delivery and collection methods relevant to the service.
After going live with the core management and diary system earlier in 2021, Hounslow Council officially launched Copy Certificates to the council website in late September.
In a live capacity, the new online processes have created the benefit of offering question flows for birth, death, marriage and civil partnership copy certificates through one system, a change from their previous system of individual forms. Completed orders and their details would also be simplified, as they would be recorded within the admin side of agenda for registrars, allowing the Hounslow team to process orders, complete certificates and dispatch them as required from within a single piece of software.
The Impact
Over the first 4 weeks live, the team quickly started receiving orders from customers via their new online links and got to grips transitioning over to the new solution.
In this time period, the London borough of Hounslow accepted over £3,500 in certificate orders via online booking. This was the result of 211 orders being received in that time period, with the Hounslow team completing and dispatching over half of those orders while finalising outstanding certificates in their previous system. See a breakdown of other key takeaways in the sections below:
Certificate Types Ordered:
Of the orders received during this period in the online system, births were overwhelmingly the most popular certificate type ordered with 114. Other certificate types ordered in this time across the 4 weeks were as follows:
Birth Certificates:

Week 1 – 21
Week 2 – 29
Week 3 – 37
Week 4 – 27
Deaths Certificates:

Week 1 – 5
Week 2 – 12
Week 3 – 5
Week 4 – 7
Marriage Certificates:

Week 1 – 19
Week 2 – 18
Week 3 – 19
Week 4 – 10
Civil Partnership Certificates:

Week 1 – 1
Week 2 – 0
Week 3 – 0
Week 4 – 1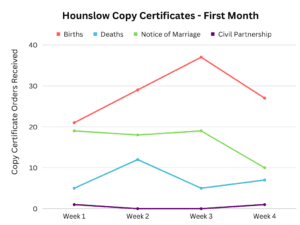 Certificate Types Completed:
Certificate types completed during this time period were predominantly birth and marriages, accounting for 81% of orders made (41% and 40% respectively). The 4-week period also shows 18 death and 1 civil partnership certificate were ordered.
Collection Method:
Comparing orders posted or collected in person, postage was far and away the more popular method for receiving certificates ordered. 80% of certificates completed within the study's duration were sent via post (82), while only 21 were picked up at a register office.
How Many Were Made Online?
From the copy certificate search results between the 26th September and 23rd October, 100% of certificate orders taken during this time were from online channels, representing a very successful channel shift for customers.
From Julie Gillies –
"Although we have had an online LBH version to order a birth, death, marriage or civil partnership certificate for several years, having it under the one system will make the process more streamlined. This will not affect the customer journey as the change has been seamless, the form is in a slightly different format for ease of use. Customers can now order multiples of different certificates using the same form, for example a birth and a marriage, instead of previously filling in individual forms and purchasing separately. 
The project team have worked tirelessly in achieving this stage so well done to all involved!"