In late May we announced our latest module for agenda for registrars designed to adapt registration to the post-lockdown service environment, Mobile Check-in.
Since then, we have worked with tens of councils to integrate the new module, creating more contact free environments for visitors prior to their appointment, and ensuring visitors can get from arrival to appointment with as few disruptions to regular service as possible.
With the module now past the two month stage, we've collaborated with a sample of five registration services using Mobile Check-in to gauge the add-on's performance within it's first month of use*, and to discover how visitors are interacting with the system in the post-lockdown landscape.
*From first check in made via mobile over a four week period.
Mobile Check-In findings:
Over 2,000 check ins were made via mobile across 5 authorities
During its first month of use at participating councils, Mobile Check-in handled a considerable number of check ins, with 2095 check ins being completed via mobile throughout the period.
During the opening week, we had initially predicted low usage across all councils because of a number of reasons; this included a lack of familiarity with the process from users, an inability to access their emails, or simply a preferences to the traditional method of checking in. However, we were surprised to find 350 mobile check ins were made during the first week across all five services, greatly exceeding expectations.
This continued to grow on a weekly basis, rising to 573 and 659 cumulative mobile check ins in weeks 2 and 3 respectively, before dropping to 545 in the final week of the study. The progress made across the weeks is displayed in the graph below.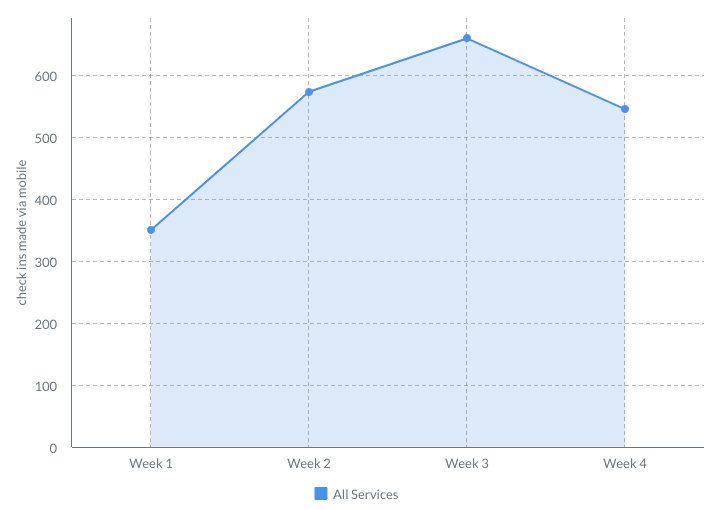 In addition to this, the study also produced some interesting general statistics. For example, 4 out of 5 participating councils registered over 200 mobile check ins over the entire period, with one council recording a peak of over 200 check ins within just one week of use.
Mobile Check-In for appointments accounted for almost 60% of all check ins
Upon comparing the number of check ins made via mobile to those made by regular face-to-face check in, Mobile Check-in has proven to be a popular alternative channel to the previously established process.
After finding the percentage averages of each service's mobile check-in's, we took the average across all participating registration services to find that mobile check ins accounted for 59.89% of all check ins made over the first 4 weeks of use.
Below are some of the other key takeaways:
Over the duration of the study, all councils had ended their first month live with an average of at least 1 in 4 check ins being made by mobile.
4 out of 5 councils experienced at least one week where over half of all sign ins were completed using the module.
One council recorded over 70% of all check-in's via mobile in one week.
Looking at the statistics from a week-by-week basis, the average mobile check-ins made within the first week was 49.31%, growing further still to 64.18% and 66.97% before falling to 47.27% in it's final week.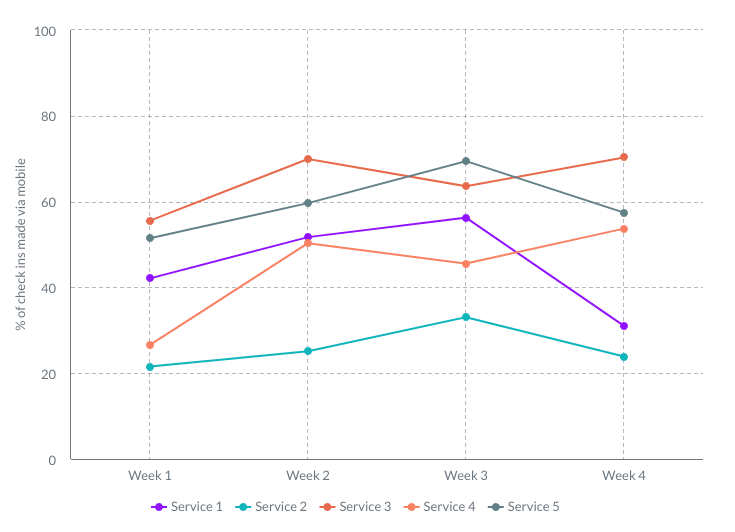 What can we take away from this?
Reviewing the statistics from the sample, Mobile Check-in has proven to have had a successful early launch period.
Promising usage figures and impressive check in numbers all indicate that the module is being positively received by visitors and meeting its objective of reducing unnecessary contact and saving staff time.
This hopes to be a positive start for the solution not just in the post-lockdown service landscape, but for improving visitor journeys far beyond COVID for both visitors and registrars.
It will be interesting to see how these statistics have been affected by the visitors willingness to avoid contact for COVID purposes and their familiarity with using mobile in the future.
Find out more about Mobile Check-in by getting in touch via the contact form here: https://stopford.com/contact-us/