With over 100 local authorities currently working to implement their own lateral flow testing plan (source: GOV.UK) , ensuring that asymptomatic and fast testing is both highly accessible and deliverable is at the forefront of the public sector agenda.
But with positive cases spiking and the emergence of a new strain of Coronavirus creating a more urgent need to implement comprehensive systems, enabling online booking could be one of the most viable ways of administering and overseeing bookings at testing centres across the country.
Below we've outlined 5 of the biggest benefits councils can take advantage of by making lateral flow COVID testing bookable from the authority's website (and a few more at the bottom for those working with us!).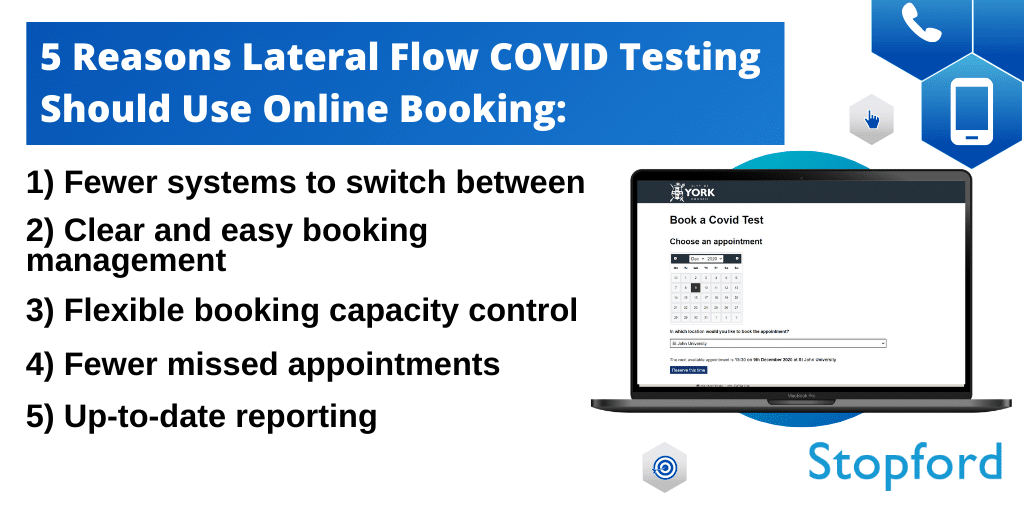 1. Fewer Systems To Switch Between
One of the biggest nightmares within any organisation is having to use different pieces of software for handling parts of the same task. Whether it's transferring completed form details into spreadsheets or even tracking purchases in one program and issuing orders in another, maintaining and using several systems can be costly and time inefficient for users. (Council IT teams are the real heroes for all the deployment!)
As a result, having one comprehensive system to tackle all your COVID test booking requirements is a big advantage. With fewer resources going to waste, you'll be able to maximise your desired system to generate the best results, and focus on delivering seamless booking experiences for your users.
2. Clear and Simple Booking Overview and Management
Building on the last point, the idea of one centralised system also comes with the benefits of being able to expand control over multiple venues and oversee test bookings. With most booking systems these days coming equipped with both the customer booking side and an administrator side for set up, being able to monitor your progress and user activity has never been easier.
A great admin side for COVID Testing should empower you to:
Establish testing venues
Configure diaries and timeslots for locations
Add users with permissions
Cancel/Reschedule bookings easily
All this while displaying upcoming bookings in a user friendly and intuitive way, so your teams can be confidently prepared to help your visitors every time.
3. Flexible Booking Capacity Control
No matter what stage your authority is at when offering testing, having the ability to increase or decrease booking capacity at your discretion is an incredibly useful for managing demand.
Tackling variables like high booking demand, shortages of testing bay staff or anything else through flexible capacity controls means that allocating the most efficient amount of tests for your local residents is always only a few clicks away.
4. Fewer Missed Appointments Through Confirmations and Reminders
Having missed appointments are the worst. Not only do they take timeslots from those who may otherwise need them, but crucially reduces how many people you can successfully test every day.
By making online booking a part of your lateral flow strategy, you can automate the distribution of confirmations and reminders to those who have booked, giving them a message via channels including email and SMS to keep them on schedule.
5. Intuitive Reporting On Test Bookings
If you're using a comprehensive online booking system, you should have access to a reporting suite to measure metrics like your overall attendance, absences and cancellations.
In terms of more testing centre orientated figures, the ability to look at custom reporting for your field can also be invaluable; opening your eyes to information including, when are tests most often booked.
Through information like this, you can always measure how your service is performing and make tweaks to your service delivery confidently based on quantifiable data.
3 Extra Benefits of Test Booking with Stopford:
After covering the more general benefits of using online booking for COVID testing, we've also taken the time to mention the additional benefits of bringing your lateral flow strategy to life with Stopford.
6. Tailored Customer Booking and Validation
Every council we work is unique and innately knows their local residents better than anyone else. That's why we work with councils to build a customer booking journey that not only works for the resident, but also for the council's wider plan.
From the fields you want to collect data on, to the type of interactions and data validation checks you want enabled, the collaboration between Stopford and councils allows us to co-create booking experiences that are simple and tick all boxes.
7. Expert Project Support and Turnaround
Having worked with hundreds of councils through the years to deliver their digital transformation projects, we've refined services to help deliver excellent project management and support that gets the best out of each system.
Having worked with multiple councils to deliver booking for lateral flow COVID testing including York and Lambeth, we've managed to roll out projects in less than a week, helping to expand access to testing fast.
8. Only Pay For As Long As You Need Booking
Knowing testing will one day be phased out as vaccinations are brought to the forefront of the national strategy, we want to ensure that the councils we work with are given the most flexible and cost-effective booking solution possible.
With this in mind, our SaaS pricing model means that using our lateral flow COVID test booking system can be stopped at any time, preventing large one-off procurement costs and assisting council's as they pivot to their next objectives.
If you're interested in hearing more about Stopford's Lateral Flow Test Booking system or would like to arrange a demo, please get in touch via our contact form.
We've also got a number of other stories about Lateral Flow council booking system that you can find linked below.