We are excited to announce the launch of our very first specialised booking solution for local COVID-19 testing centres.
With plans to go live later this week, the new bespoke system will enable COVID test bookings to be made online from the council website, allowing residents to securely book into timeslots at established testing sites at their convenience.
The arrival of the test booking system also comes at a crucial time, with Christmas right around the corner and many residents expected to visit relatives for the holidays, demand for testing is likely to rise as we look to protecting our family members.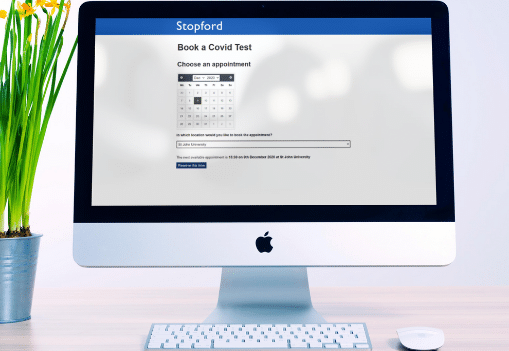 Project Requirements and Background
In early December, a North East based local authority had outlined the need for a COVID test booking system which could utilise the existing calendar and booking functionality currently used by their registrars, while making adaptions to tailor for the challenges of offering testing.
Having successfully developed and deployed a number of bespoke pandemic solutions for local government this year (see our telephone death registration appointment booking and recycling centre booking posts for more information), we were confident we could deliver an adapted solution that met our client's functionality requirements in the tight timescales provided.
After quickly agreeing to the system outline with the council's IT department, our team of developers went to work in adding fundamental features like enabling bookings across multiple venues and their testing bays, whilst also delivering on requested modifications like the ability to book another test 3 days later.
What was paramount however was the need to deliver a robust solution within a short timeframe. With testing demand expected to rise, a slow turnaround would not best assist the council in delivering bookings at this challenging time. So understanding the authority's urgency, we have turned around the system from specification to in a position for go live in less than a week, helping to meet the strict deadline comfortably.
Sales and Marketing Manager, Scott Graham, had this to say about collaborating with the client on COVID Test Booking:
"Having worked with our client's fantastic registration team for a number of years and fostering a great relationship with their IT services, we were honoured to create a bespoke solution for their COVID testing venues.

With times being as difficult as they are and the expected rush of testing from those going to spend Christmas with loved ones, we jumped at the opportunity to assist our partners in developing their expected solution quickly and help residents enjoy the holidays safely."
If you'd like to know more about COVID test booking or would like to share your own requirements, please contact us through our form.