With more and more services moving their bookings to online channels, managing appointments online continue to create long term cost savings for registration services.
But even with births, deaths and notices offered via the council website, there's still work that can be done to reduce the workload for registrars and minimise incoming calls.
Today we wanted to put a spotlight on a feature we've had in our registration options for births and deaths for a while, the option to continue a booking as a birth or death declaration. Read on to find out more.
Birth and Death Declarations
What is a birth/death declaration? Declarations for births and deaths occur when the informant cannot attend a register office in the district the event took place in and instead visits their local service. Details are taken at the time of the appointment and subsequently passed onto the correct district for completing the registration and issue of a certificate.
How Have Declarations Been Done Previously?
In the past, services have opted to direct informants to book offline, with the online booking flow reaching an end point and providing email or telephone contact details.
Booking Birth and Death Declarations Online
Using Stopford's online processes, registrars can opt to allow bookings to proceed as a declaration after indicating the birth or death took place outside of the district. This is typically defined early in the process, at the 'Where Did The Birth/Death Take Place?' question.
From there, the informant can choose to continue with the booking, proceeding through all obligatory stages, bypassing the option of certificate pre-purchase if already integrated.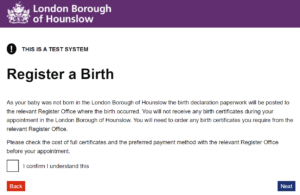 Post-confirmation, the booking will then indicate it's a declaration in the online diary side, reflecting the need to pass on the details to the relevant authority after the booking has taken place.
Birth and Death Declarations in Admin
Bookings input into the system manually will allow the registrar to tick if the appointment is for another district to register or has been received from another register office to complete.
What's Included?
Adapting the flow to continue accounting for the birth or death being outside of the district (this could include an additional page if text is required)
Re-routing the booking in the event the option to order certificates has been implemented
Links to the online diary to reflect the booking is a declaration
How Do I Get Started?
To allow declarations to proceed for births and deaths, get in contact with your Project Manager or contact us directly via our contact form.
For more information on the market-leading online booking and diary management system for registrars, please visit our product page here.