In early 2020, the COVID-19 pandemic created an unprecedented situation for councils in the modern era, forcing multiple lockdowns and changing day-to-day life for all people across the UK. Among council services continuing during this time, registrars have played a huge part in ensuring vital services continued, managing backlogs as a result of reduced face-to-face contact and tackling the rising deaths as a result of the pandemic.
Following on from our analysis of Scotland's births, deaths and marriage figures in 2020 (you can read that here), today we will look at the figures behind Northern Ireland's registration teams and determine the differences between 2019 and 2020.
PLEASE NOTE: All data here covers the period 2006 to 2021 from the NISRA. Data sources are cited below each section.
Births – 20,814 (2020) | 22,447 (2019)
Much like the trends in Scotland's figures, Northern Ireland saw fewer births recorded with registrars in 2020 than in 2019, with nearly 2,000 fewer than any figure in the data set (2006-2021). Using the month-by-month figures, January and February of 2020 started off relatively consistent with previous years before falling sharply for March (1,257 against an average of 1,953).
Upon lockdown in April and May, 2020 then recorded the lowest recorded births in the data set with 93 and 408, a 94% and 79% drop respectively from their 2019 counterparts. Though birth registrations were briefly reduced in availability to manage death early in the pandemic, services worked through their backlog from June, registering the highest number of births from June to December dating back to 2006 where the data set concludes (15,070). July 2020 also saw the highest number of birth registrations take place, with 2,718, surpassing the previous high between this time period of 2,660 back in January 2008.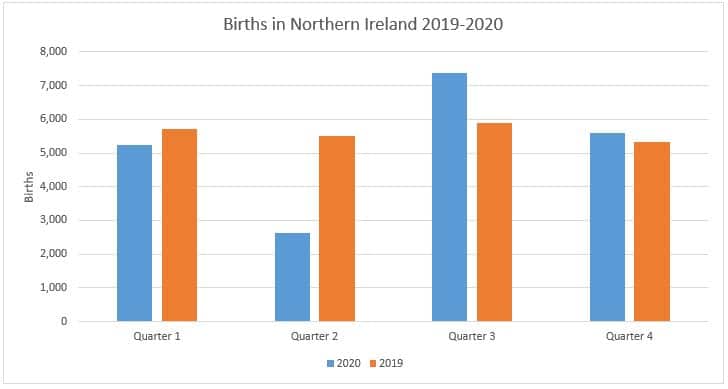 Overview: Despite reduced overall registrations, pressure created on registrars during the prioritisation of death registrations clearly created a backlog for services in Northern Ireland in latter months in the year. Services took on the challenge of the backlog well, outperforming the previous years performance for both quarters 3 and 4.
*Birth statistics were derived from the NISRA's monthly birth records as of 21/07/2021.
Deaths – 17,613 (2020) | 15,758 (2019)
From April, COVID-19 created both greater pressure on keeping up with death registrations while also presenting logistical issues to conducting the appointments themselves. Looking at the figures from NISRA, the first quarter of 2020 stayed in line with trends of the previous years. Deaths registered in 2020 however reached their highest in April, recording 1,933, the second highest recorded within the data set only to January 2018.
For the rest of 2020, deaths were the highest in the data set from April to December in 6 of the 9 months, with deaths rising again significantly against the average between October and December to 4,786, a 16% rise on the previous year but a 28% increase on the average value for these months in the data set.
Overview: The pandemic increased death registrations by 12% on the previous year and strained services in the months post March. Robust registration management however has allowed services to work through the pressure and return to appointment volumes similar to the previous trends in 2021.
*Death statistics were derived from the NISRA's monthly death records as of 21/07/2021.
Marriages 3,724 (2020) | 7,255 (2019)
Of the services that registrars in Northern Ireland provide, marriages were one of the worst hit by the pandemic. With a limited scope for conducting ceremonies due to lockdown and restrictions, 2020 saw an overall 48% decrease in comparison to it's 2019 counterpart.
Reviewing quarterly data, volumes for marriages were particularly low across quarters 2 and 3, where only 169 and 1,396 marriages took place, a 92% and 49% decrease respectively on the year prior. Figures began recovering in the quarter 4, where 2020 and 2019's statistics converged with a difference of only a few hundred marriages.
Overview: The effect of the pandemic on marriages has been significant and has likely created a backlog due to deferrals in Spring and Summer (the most popular months) into 2021 and beyond for those quarters. Future data will assess if there's a visible rise in demand for weddings in this time period.
*Marriage statistics were derived from the NISRA's Registrar General Quarterly Report as of 21/07/2021.
---
Stopford deliver the UK's leading online booking and diary management solutions for registration services and local government, supporting over 100 authorities with their service delivery every day.
To find out more about what Stopford can offer your registration service, check out our Registrars Solutions page. To get in touch for a demo, a brochure or a chat about your requirements, get in touch via our contact form.