From Dumfries and Galloway to the Comhairle nan Eilean Siar, Scottish Councils play a pivotal role in delivering local services to their residents through a combination of digital and physical infrastructure. Part of these vital services include the Scottish registration service, verifying births and deaths, approving marriages/civil partnerships, and informing wider demographic data across various regions. 2020 however created a new challenge for services across the UK, with the Coronavirus pandemic minimising in-person contact and reducing authorities capacity to take bookings throughout lockdown.
In today's Stopford blog, we look at the figures behind Scottish registration services during the pandemic and compare these against the figures available in previous year to see the true impact of lockdown and other COVID restrictions on civil registration in Scotland.
*All figures are from the National Records of Scotland's quarterly results.
Births – 46,740 (2020) | 49,917 (2019)
Prior to 2020, 2019 had followed a trend of steadily declining births within Scotland. As shown in the chart below, the first quarter of 2020 started with 11,023 births, the lowest recorded in Scottish civil registration since it began. This was before full COVID measures were implemented in quarter 2, where only 1,145 births were recorded, the lowest second quarter value recorded in the data set.
However in the third quarter of 2020, a huge effort was made upon the reopening of register offices to tackle the birth backlogs of the 1st and 2nd quarters, seeing a huge 21,309 births registered before evening out at the average of 13,263 for the fourth quarter.
2020 Quarter 1: 11,023 | Quarter 2: 1,145 | Quarter 3: 21,309 | Quarter 4: 13,263
2019 however saw similar lows without COVID-19 to effect registrations directly, with quarter's 1, 2, 3 and 4 displaying lowest and second lowest figures since registration began. Though far more stable than it's 2020 counterpart, 2019 further highlights lower birth rates in Scotland as a trend outside of pandemic factors.
2019 Quarter 1: 12,642 | Quarter 2: 12,253 | Quarter 3: 13,155 | Quarter 4: 11,867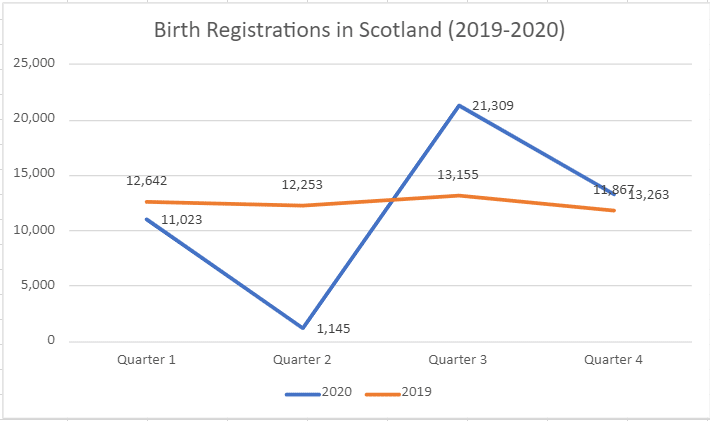 Deaths – 64,053 (2020) | 58,108 (2019)
Of the services with a comparable 2019 figure measured, death registrations were the only one that saw an increase between 2020 and 2019. In quarter 1 of 2020, 15,932 deaths were registered, a 4.1% increase on it's 2019 counterpart, before rising to 18,200 in quarter 2, of which 83% of the excess deaths were due to COVID related reasons.
The volume of deaths returned to average in quarter 3 that year (comparable to that in 2019's quarter 2 and 3), before rising again to 16,626, a trend noticeable in 2019 for the latter months of the year.
2020 Quarter 1: 15,932 | Quarter 2: 18,200 | Quarter 3: 13,295 | Quarter 4: 16,626
The patterns in 2019 showed similarities to 2020 (with the exception of quarter 2), with higher values in quarters 1 and 4 and reducing for 3. What's noticeable in terms of trends however is quarters 3 and 4 that year were the highest in over 20 years too, indicating rising death registrations later in the year even the year prior.
2019 Quarter 1: 15,306 | Quarter 2: 13,652 | Quarter 3: 13,585 | Quarter 4: 15,565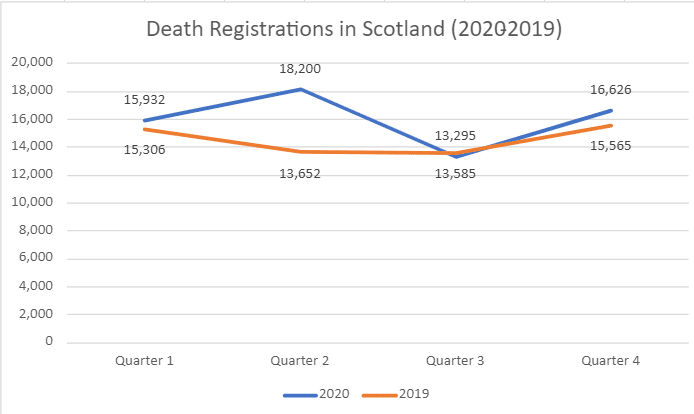 Marriages – 11,986 (2020) | 26,006 (2019)
Without a doubt, marriages have seen the biggest drop due to Coronavirus in comparison to its preceding years, dropping by over half in comparison to it's 2019 figure. In quarter 1 of 2020, 3,024 marriages took place, the lowest for this quarter ever recorded. Quarter 2 saw a massive drop in line with the beginning of lockdown, with only 117 marriages taking place, with most being deferred.
Quarter 3 saw this rise to 3,789 with the easing of restrictions and implementation of reduced guest numbers, however even this was lower than the average figure for the quarter. The fourth quarter rose however to 5,056, which was lower than average and 2019's figure, indicating a hesitancy due to restrictions or on the basis of safety continuing to play a factor.
2020 Quarter 1: 3,024 | Quarter 2: 117 | Quarter 3: 3,789 | Quarter 4: 5,056
2019's non-pandemic figures, much like 2020, showed some declining marriage figures among quarters. Despite quarter 1's increase on 2018's number, Q2, Q3 and Q4 were the lowest totals in recent memory, with Q2 being the lowest ever recorded for that time period, and Q3 being the lowest total since 1932.
2019 Quarter 1: 3,198 | Quarter 2: 7,613 | Quarter 3: 9,512 | Quarter 4: 5,683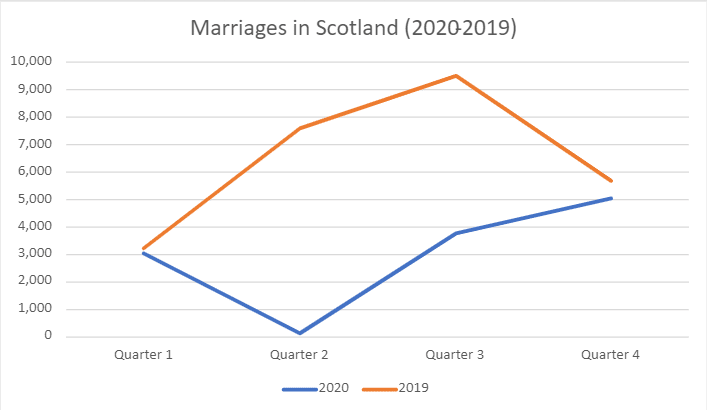 ---
Stopford deliver intuitive diary management and online booking solutions for countless government services, alongside the UK's leading solution for registrars, agenda for registrars. If you'd like to know about Stopford's range of products for registration services, please visit our Registrars Solutions page or drop our team a message via our contact form.