Coming into effect as part of central government's Civil Partnership, Marriage and Deaths (Registration etc) Act 2019, marriage schedules have presented services with a number of changes to existing procedures.
As the first time the process for marriage/civil partnership ceremonies have been overhauled since 1837, these new measures look to modernise the system for increased security and privacy, while updating details including eligible parties on documentation (check out our standard marriage schedule changes here). Theses have included no longer signing the register book and the management of all schedules received centrally through one electronic portal.
This has also delivered a change to how certificates are issued; with dispatch being actioned on receipt of the schedule. For celebrants, this means that they won't receive their official marriage certificate until their schedule has been processed and sent by post/collected.
Conversely, registration services will now be challenged to keep up with certificate requests from both civil and non-registrar ceremonies, while minimising the amount of requests made that require contact with a staff member directly for efficiency purposes.
Today we'll look at how our new Schedule Certificate Ordering feature will optimise service efficiencies and offer maximum convenience for non-registrar celebrants ahead of their ceremonies.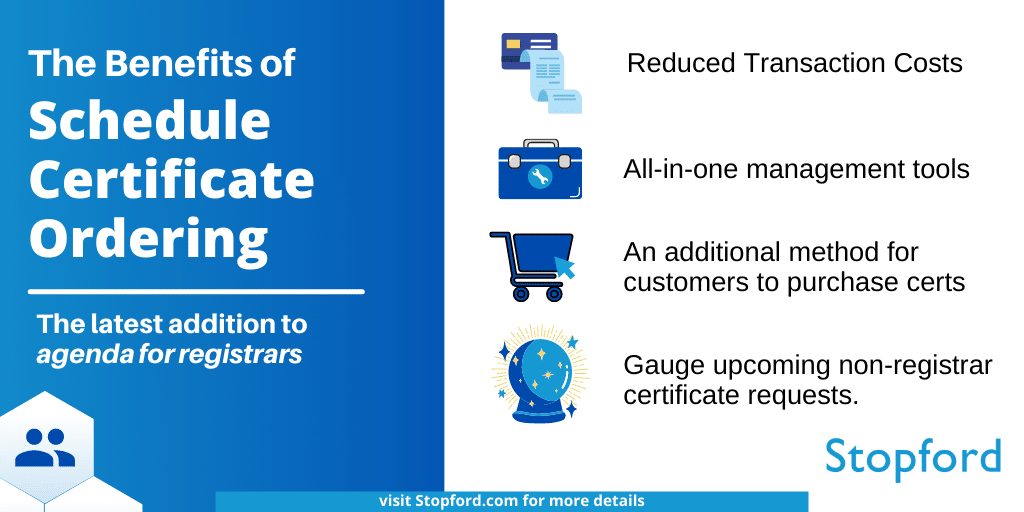 What will Schedule Certificate Ordering offer?
As mentioned in the previous section, the introduction of schedules will mean that they will have to be received by the registration service and processed internally before certificates can be sent out. Using the Schedule Certificate Ordering feature for agenda for registrars, services will be able to collaborate with the clergy to point non-registrar celebrants to order their certificates in advance of their ceremony.
This online process will enable celebrants to go through a simple flow, ordering the number of certificates they'd like in advance, choosing their preferred postage or collection method, and paying online for their order. These details will feedback to registrars in the admin side, allowing staff to search and action certificates as they receive the corresponding schedule.
This has the benefit of not only giving celebrants a convenient way of ordering their certificates, but also has the added benefits of offering an upfront revenue source for services and reducing the time spent managing requests in-person during the schedule hand in, or over the phone.
Schedule Certificate Ordering will also offer in future the additional benefit of providing those getting married via a registrar ceremony the option to order additional copies of their certificates in advance of their ceremonies. This supports certificate ordering currently embedded in appointment and ceremony booking online flows and allows them to order further certificates without having to go through online booking again or contact the register office.
---
For more information on the Schedule Certificate Ordering feature for agenda for registrars, please contact us via our contact form below.