The role of the citizenship process in the UK is an important one. Every year, thousands of nationals become recognised as British citizens, allowing the government to formally recognise an individual's status and the wealth of benefits that come with becoming a citizen like voting rights.
However, over the past few years nationwide events like Brexit and COVID-19 have contributed challenges to the established naturalisation process, creating bottlenecks and challenging registrars' ability to conduct formal citizenship ceremonies in person.
In today's Stopford blog we explore how citizenship numbers have looked over the last few years and analyse the effect of events like Brexit and the COVID-19 pandemic on registration services up and down the country.
Since Brexit
The EU referendum back in June 2016 created shockwaves for EU, EEA and Swiss nationals working and living in the UK. As a result, many nationals turned to citizenship and settlement status' to ensure they could secure their future in the UK.
Reviewing citizenship ceremony data since 2014 (available at the link here), the regions that have conducted the most attended ceremonies in the UK are London (270,030); South East (84,415); East Anglia (46,816); West Midlands (38,835), and the North West (38,657) (see graph below for full rankings).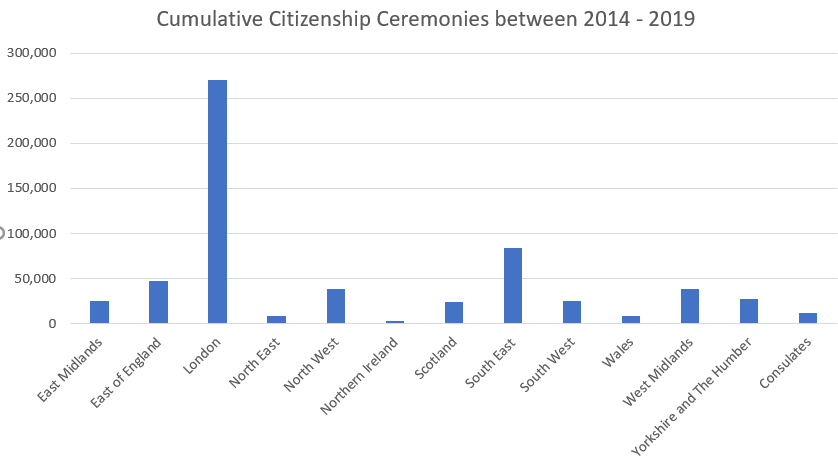 In the wake of the Brexit result, interest from EU nationals for British citizenship grew as their status was to change. This is supported by GOV.UK's national statistics from May 2020, which indicated that the EU referendum result created a visible uptick in citizenship applications from EU nationals, rising after September 2016's statistics in line with the referendum date in June that year, whereas Non-EU citizenship applications remained stable. This surge in applications peaked during the first quarter of 2019 with over 50,000 applications before gradually declining.
By 2020, applications from EU nationals for British citizenship accounted for 35%, compared to 12% back in 2016, reflecting greater urgency to confirm status ahead of the deadline.
COVID-19's effect on citizenship
COVID-19 presented an unprecedented position for registration services and their citizenship applicants who had been due to attend a ceremony. With numerous lockdowns and an emphasis on reducing face-to-face contact at every opportunity, many scheduled ceremonies were deferred. Upon emergency legislation however, ceremonies were able to proceed virtually despite lockdown in specified authorities.
According to GOV.UK's February 2021 report, How many people continue their stay in the UK or apply to stay permanently?, there were 170,692 applications for British citizenship in 2020, only 2% higher than 2019's figure, showing limited effect on the number of applications received during this time. This is as the fourth quarter of 2020 received 60,000 applications, counteracting the 43% fall in the second quarter where fewer than 2,500 applied in April.
In total, there was a 7% decline in decisions made on citizenship applications between 2019 to 2020, likely caused by backlogs and significant pressure on services. In terms of citizenships granted during 2020, April to August showed in some instances significantly lower grant numbers than in 2019 before narrowing in the later months.
Overall, citizenship grants and applications haven't shown to have been overwhelmingly affected by COVID-19, with cause possibly being due to most applicants being UK-based and council efforts to ensure citizenship ceremonies could be completed, including the extension of bookings.
Other key statistics included:
There was a 37% rise in citizenships from 2019 to 2020 through marriage.
Applications for citizenships fell 20% by EU nationals compared to the previous year though this has increased between 2016-2019 overall to reflect the EU referendum.
Citizenship (Scotland) – 4,460 (2019)
As statistics for 2020 are hard to come by due to Coronavirus affecting applicants' ability to attend ceremonies, for this statistic we'll be looking back to 2019. According to the National Records of Scotland's Migration Quarterly Report, there were 4,460 citizenship ceremonies that took place in Scotland. Of those, Edinburgh and Glasgow City accounted for almost half of all ceremonies that took place, with the other 8 authorities supporting several hundred ceremonies that year.
Of the ten highest serving authorities, six saw overall percentage rises in overall ceremony attendees, with Perth & Kinross seeing the highest growth that year of over 58%.
---
If you would like to know more about Citizenship within Stopford's Registrars Booking system, get in touch via our contact form here.