As birth bookings begin to restart at a number of councils throughout the UK, we'd like to take this opportunity to look back at the journey we've made with clients throughout the period. From the proactive release of entirely new systems to intuitive ideas designed to better adapt services to the post COVID landscape, we've been hard at work these last couple of months to ensure the timely delivery of new solutions.
With the launch of notice document vetting later today, here's how the new feature fits into our COVID response timeline since lockdown began in late March.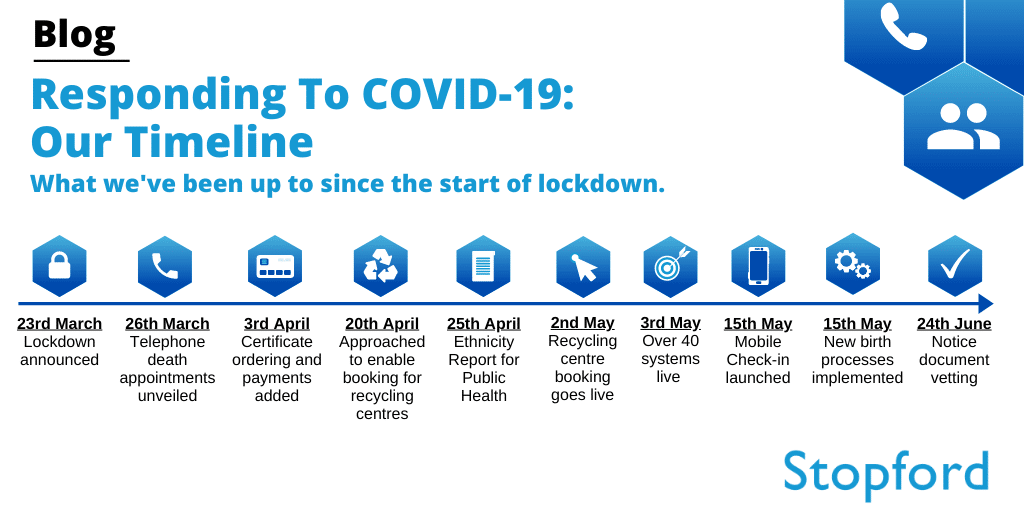 Stopford's COVID-19 Timeline:
23rd March – UK was officially put into lockdown due to the Coronavirus.
26th March – We announced our free booking solution designed to best manage telephone appointments for death registrations to both existing and non-clients.
(Read the full post here.)
3rd April – We released new phase 2 features for our booking solution including online certificate purchase, PDF attachments to emails and Welsh translations.
(Read the full post here.)
20th April – We begin work on a recycling centre appointment booking solution to assist in the reopening waste disposal sites.
25th April – We partnered with a number of councils to create an Ethnicity Report, designed to help monitor COVID-19's effect on patients within BAME communities.
(Read the full post here.)
2nd May – Our booking system for household waste disposal goes live first at Bromley Council's Refuse and Recycling Centres.
(Read the full post here.)
3rd May – Our appointment system for telephone death registrations is installed for 40 councils.
(Read the full post here.)
15th May – We announce Mobile Check-in as an option for agenda for registrars to minimise the spread of Coronavirus and create new time efficiencies.
(Read the full post here.)
15th May – We unveil new changes to our online birth processes, including the removal of the 42 day rule, the ability to offer certificates and built-in data capture options.
(Read the full post here.)
24th June – We launch a new document vetting feature designed to streamline the process for giving notice.
We will continue to support local government services during this time, with the team hard at work to ensure timescales are met and services can return to normality at their own pace.
A special thanks to all our clients who have have helped us co-design our response to the Coronavirus and supported us throughout this time.