Sometimes, small improvements to online flows can pack a big punch in terms of time savings. From areas like self serve to Restrictive List, the Stopford team have always been keen to adopt new functionality to streamline service delivery for customers.
One of the more recent areas of development has been the ability to purchase certificates during the online process for a registration appointment (birth or death). With certificates being charged at £11 each, the potential to offer certificates upfront presents not only a streamlined purchasing process by becoming self service, but also provides the opportunity to increase sale volumes.
Read on to find out how Stopford have implemented the option to purchase certificates into online flows.
How have certificates previously been issued?
In the past, services have managed orders at the time of the appointment. This has meant factoring in steps including the discussion of certificates, taking payments etc. during the appointment itself, increasing the time required for each birth or death registration.
How can purchase be made in advance?
After selection of appointment date and time, new pages can be installed asking the customer if they'd like to order certificates, and if so, how many. These certificates can be paid for at the point of booking if you already have payment integration, with a confirmation of certificates ordered being input into admin via the notes field.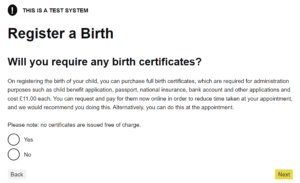 What's included in this work?
New pages to ask if the customer would like certificates and to indicate certificate quantities. Subsequent hand over to the payment provider.
Quantity of certificates detailed against the booking.
Payments made online linked to birth and death appointments in admin.
New letter placeholders to indicate certificates purchased.
How can I get started?
To add the option of certificate purchase ahead of your appointment to your system for births and deaths, get in contact with your Project Manager or fill out our enquiry form on our Contact Us page.